"I came to the Andean textile world through Quechua women as my mentors. All of my initial learnings were not through anthropological texts, but rather through weavers' stories, or - more often than not, simply by witnessing a woman weaving and seeing how her child was learning that skill from her," says Ashli Akins. "Over time, I learned how the textile was a symbol of life – for the Quechua peoples' culture, story, and voice. Learning about textiles not only made me understand the intrinsic value of artisanal heritage, but also of how these beautiful traditions were being threatened by tourists - essentially, by people like me. And by a system that didn't value cultural heritage, traditional knowledge, and land-based activities as human rights."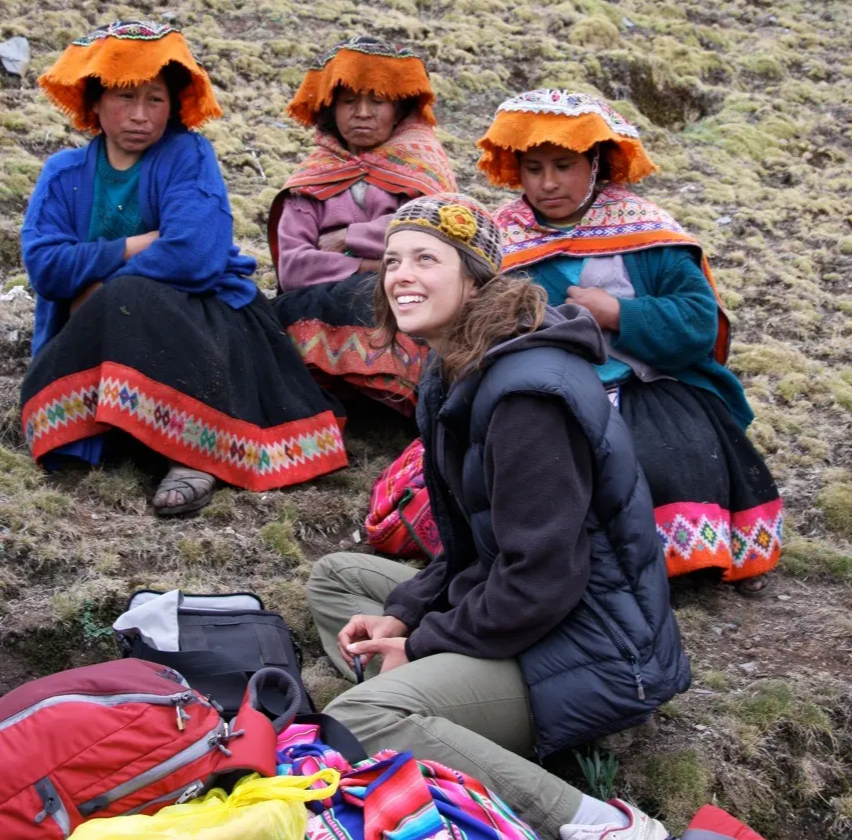 Photo by Katie Larone of Ashli Akins & Pitukisha weavers near Pitukiska, Perú.
Ashli first arrived in Peru as a backpacker in 2006 as part of her travels through Central and South America. Like many travelers, one of her first experiences with Peruvian textiles was in the Pisac artisanal market. She recounts, "I was sitting in a second-story cafe, looking down on this manta (large traditional Peruvian textile) that had tons of symbols in it. I was so attracted to it, and I ultimately decided to invest the little money I had into buying it. However, it was not long afterwards that I felt ashamed of ever buying that manta in the first place."
From Pisac, Ashli's travels took her to the small Sacred Valley town of Ollantaytambo, where she volunteered for a local cultural center and museum and helped to sell the handwoven textiles of weavers from the nearby Patacancha Valley. "There, I got to know the behind-the-scenes of what was happening in the tourism industry and how it was impacting the community members in a way that was very different from what I saw as a traveler. Reflecting back on the manta I had bought in Pisac, I realized that I had unconsciously bought a textile that was not from a community, potentially not made from natural fibers nor natural dye, and was most likely sold for a very cheap price compared to what it deserved. At the time of the purchase, I didn't know any of that, because those details are intentionally excluded in the market setting. While I thought I was a conscientious traveler, I realized that that transaction had not made the impact I intended it to make on the local economy."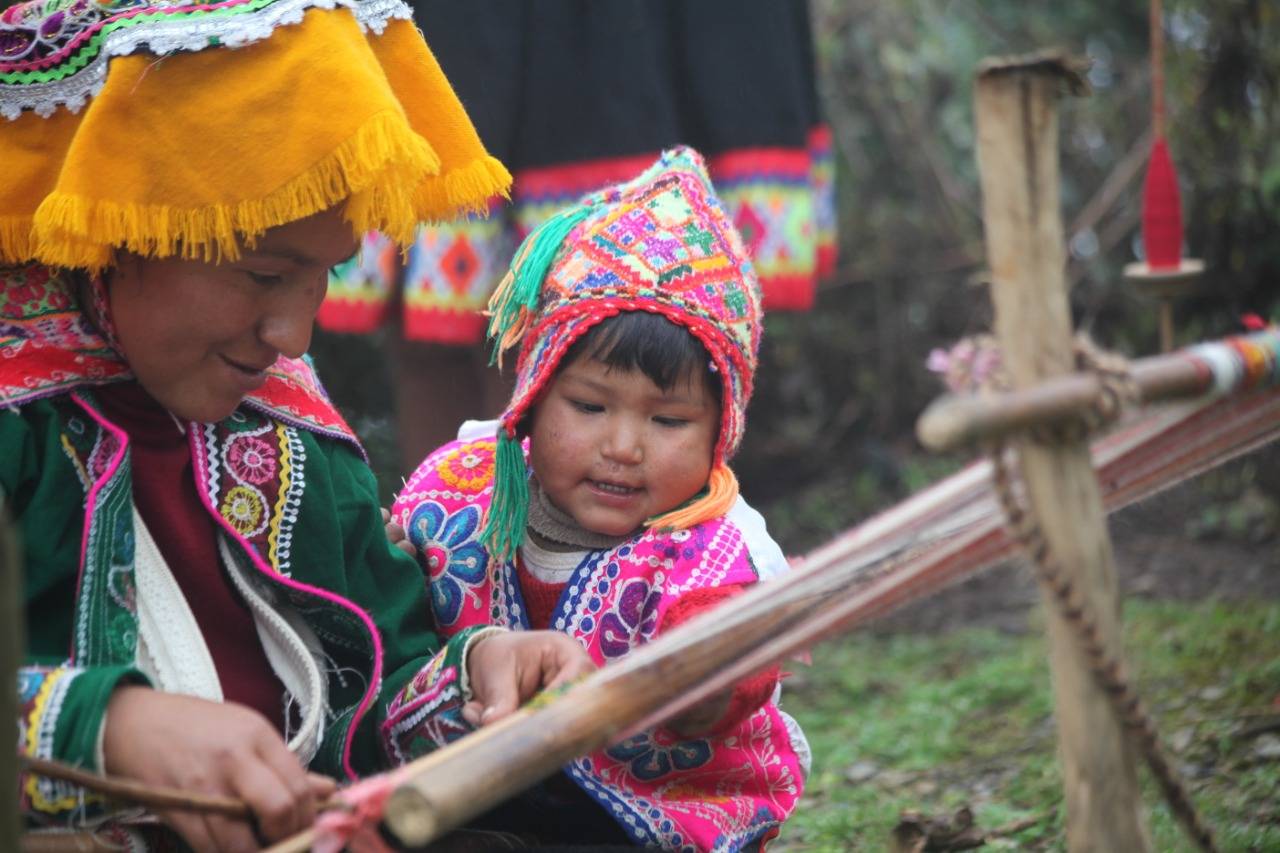 Photo by Ashli Akins of weaver, Roxana Huahuasoncco Vargas, working on her backstrap loom, with her little boy, Anderson, looking on, in Parobamba, Perú.
Ashli's story is not uncommon from the typical touristic experience at any given artisanal market around the world. She explains that "most tourists see these handmade goods as souvenirs instead of works of art, and therefore typically try to barter with the seller to get the lowest price possible. Bartering is often a given and therefore included as part of the original marked-up price - but, when it gets out of hand, it can shift the goal of the transaction and inadvertently dehumanize the producer. The vendors, too, have their own game – often telling a false story of authenticity, when really, most of the textiles sold are replicas imported from places like Juliaca, or even as far as China." The textiles you see in artisanal marketplaces are usually "machine-made, using synthetic dyes and fibers. They are beautiful, vibrant, and cheap; if the consumer doesn't know any different, they'll willingly buy these [replica] textiles." The money generated from this type of sale goes to the various intermediaries who worked to bring the synthetic textile to market instead of compensating the individual artisan or the artisanal heritage of a culture, "creating distanciation - or greater distance - in the commodity chain between producer and consumer." In the market setting, "it's easy for consumers to forget that there was ever a producer in the first place; the textile becomes a product, instead of a holder of story, history, traditional knowledge, process, and the many more things that link it to the producer."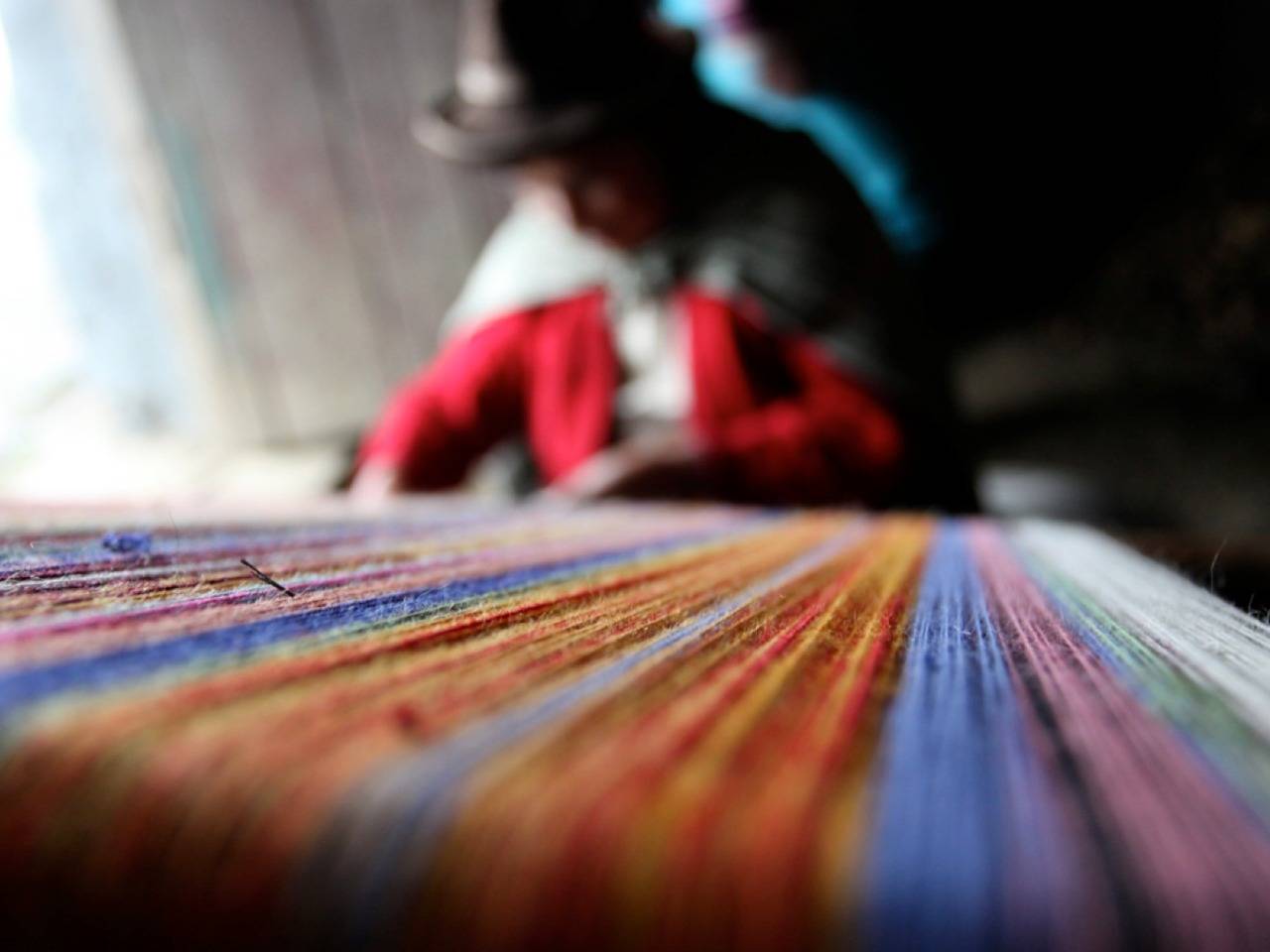 Photo by Ashli Akins of Brigida Mamani Melo weaving on her backstrap loom in Parobamba, Perú.
"They can't sell their own handmade textiles in a local market at a price that embeds all of their traditional knowledge, time, skills, and materials because the market demands a cheaper product."
These "artisanal" markets have the opposite effect on the local economy and culture than what tourists are led to believe. The purchase of replica textiles effectively excludes artisans who are unable to compete with the low market price of machine-made, synthetic souvenirs. "They can't sell their own handmade textiles in a local market at a price that embeds all of their traditional knowledge, time, skills, and materials because the market demands a cheaper product." The result is a race to the bottom line, where weavers must adopt cheaper materials and faster methods of production in order to be competitive. "To keep up, they end up cutting out many of their traditional processes.
Those initial interactions and stories would ultimately inspire Ashli to found Mosqoy, a Peruvian non-profit organization that has partnered with 200+ Quechua weavers over the past 15 years to revitalize their textile traditions by promoting their textiles at a fair-trade price and educating consumers on the intrinsic value of artisanal heritage. Her experiences working with Quechua community members have helped to shape her vision of what an ideal fair-trade model would look like.
"Under the ideal model, there would be few intermediaries. And the intermediaries that were part of the cycle would be storytellers and partners in a long-term fight; they would uphold and uplift the textile's story so that by the time it gets to the consumer, the buyer is still completely tied to the producer, understanding where that textile came from, who made it, and how much it's actually worth. And - more than anything else - the why behind the what."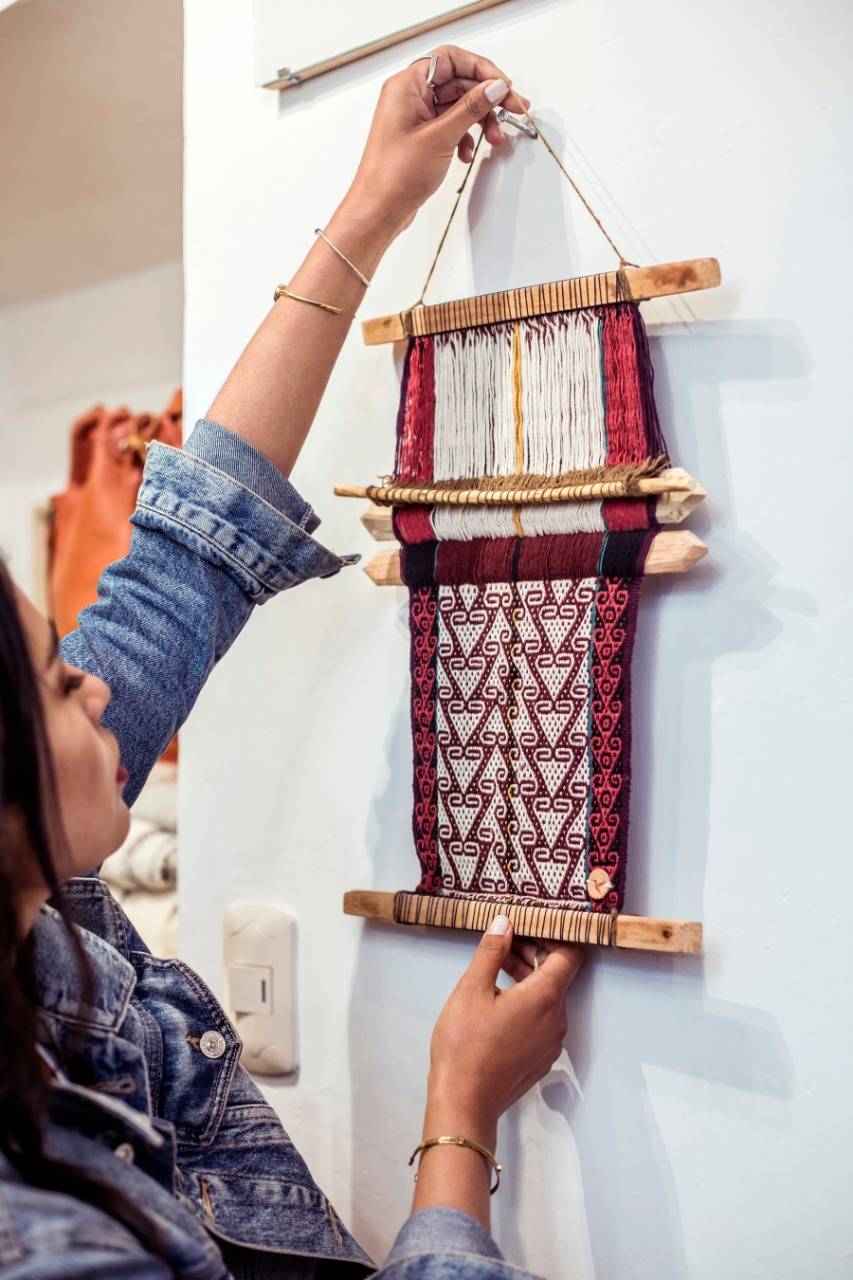 Photo by Gustavo Vivanco of model, Anais Becerra with Awana wall hanging.
This cultural context would accompany the transaction and therefore, "both the producer and consumer would have so much pride for the textile as a piece of art and cultural heritage, that they would honor it as such." In this situation, "consumers wouldn't even think to barter because they would understand the embedded value of a textile" and the merit that the weaver deserves. The money of the fair-trade transaction would then flow back into the weaver's hands, not only enabling her to purchase the materials she needs to continue her weaving tradition, but also to invest in her children, family, and community, says Ashli. "Essentially, she would have agency. Choice. She would not have to choose between keeping her culture alive or surviving economically."
Click here to learn more about Mosqoy and shop their traditional Peruvian textile products. 
Shop All Products Handmade in Latin America